Tire Rotation
Everything You Need to Know About Tire Rotations
What is a tire rotation, and why should you add it to your maintenance schedule? Necessary for upkeeping your tire's performance, routine tire rotations slow the rate of wear and tear that your vehicle's tires experience when driving on Louisiana's roads.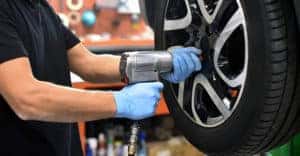 What Does it Mean to Get a Tire Rotation?
A tire rotation is a maintenance service where the position of each tire on your vehicle is changed. Tire rotation aims to check their functionality and prolong their health. Your drive train, either FWD RWD or AWD, will determine the pattern in which your service technician moves your tires. 
Taking your vehicle's drivetrain into consideration is crucial because it affects the weight applied to your tires at all times and how fast your tires wear down. For example, the front tires on a front-wheel-drive car will wear down much quicker than the rear tires, because power is sent to the front axle. 
Benefits of Rotating Your Tires
You may be skeptical of tire rotations and wonder, is it truly imperative to change my tires' position routine? On the contrary, there are many reasons why you should incorporate this step into your maintenance check-up, including
Performance Boosts:

Tire rotations allow you to drive around Baton Rouge with the extra security of knowing that your tires are in good condition. 

Wear & Tear Decreases:

The tires on your Subaru will likely give out the more wear and tear they experience. Routine tire rotations will help prevent blowouts and decrease the likelihood and frequency of completely replacing your tires. 

Greater Traction:

Tires lose tread depth as they get worn down, which results in the loss of traction. Maintaining control over your car requires your tires to produce efficient traction, and tire rotations lessen the loss of tread depth.

Longer and Better Efficiency:

When tires are worn out, they reduce fuel efficiency and strain your engine. Tire rotations prevent this while extending the life of your tires before the next replacement. 
Tire Rotation Near Me in Lafayette Louisiana
Fabre Automotive has the best service technicians across Southern Louisiana. Whether you get your car serviced at Acura of Lafayette, Subaru of Baton Rouge, or INFINITI of Lafayette, you can trust that we'll provide top-quality services, including tire rotations, oil changes, brake inspections, and your other car maintenance needs. Whether you need a particular part ordered for your new or used car or require a quick tire rotation, we have you covered. Next time you search for "Acura tire shop near me" in your web browser, look no further than Fabre Automotive! 
We are incredibly thankful for our customers and always offer service specials and discounts for our military and first responders! Remember that maintaining a proper maintenance routine is crucial to ensuring your vehicle's performance, so schedule a service appointment or call our service department today!