Fabre Automotive Service Centers
---
If you're in Lafayette, Baton Rouge, Hammond or any surrounding area then Fabre Automotive's qualified service technicians are the ideal team for your service-related needs. Our team of service technicians are conveniently located across Southern Louisiana at Acura of Lafayette, Subaru of Baton Rouge, and INFINITI of Lafayette standing by to help you with any of your new or used car services. From oil changes, tire rotations, brake pads, transmission problems, or any repair in between, Fabre Automotive's service centers and parts departments are equipped with the services you need. Call us today, we look forward to hearing from you.
Is it time for regularly scheduled maintenance on new or used car? You can trust the expert technicians at Fabre Automotive to get the job done right. Our service team is committed to providing each of our customers with the best service possible. That's why we only use OEM car parts during all of our repairs. If your vehicle needs a tune-up or a tire rotation, contact us. We look forward to serving you at our dealerships in Lafayette and Baton Rouge today!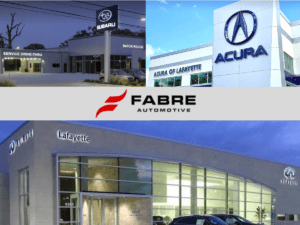 Get Accelerated Service at Our Service Center
For full auto service near Eunice, Fabre Automotive has you covered. Our crew of OEM-Trained Technicians can get you in and out for services like our Accelerated Service. If you have a spare 30 minutes, you can bring your car in for a full 7,500-mile regular maintenance check without an appointment. Accelerated Service includes:
Change Engine Oil With Genuine Motor Oil and Parts
Test Battery Condition
Comprehensive Multi-Point Inspection
All Exterior Lighting
Hand Torque All Lug Nuts
Inspect Brake Component
Measure Brake Lining Wear
Inspect Suspension Components
Inspect Underside of Chassis
Inspect Seat Belts
Inspect All Vital Fluids
Adjust Tire Pressure
Inspect Tire Condition
Our auto service center in Lafayette and Baton Rouge also offers a 30-minute Accelerated Service plan for cars' 15,000-mile maintenance, Differential Fluid Change, and more. Got a full hour to spare? We'll wash and vacuum your vehicle, too.
Discover Fabre Automotive's Car Services In Lafayette and Baton Rouge
For auto service in Lafayette and Baton Rouge, our auto service center offers a New Owner Workshop for New Iberia drivers who've just purchased a new vehicle, opportunities to save with our service specials, and collision repair. This is an auto service in Lafayette and Baton Rouge that covers everything for the life of your vehicle in Youngsville. Contact us with your questions.